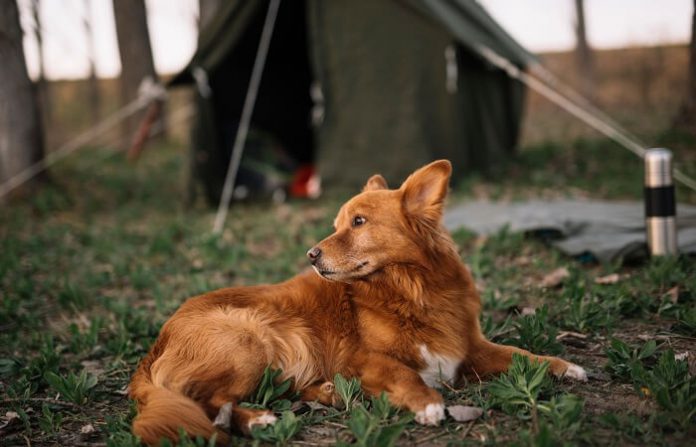 We hope you love the products we recommend! Just so you know, Men with Kids may collect a share of sales or other compensation from the links on this page.
When it comes to your well-earned vacation, there's nothing like a camping trip for clearing off the cobwebs and recharging your batteries. We're lucky to live in a country filled with super beautiful places to set up camp. That said, figures show that over one million families take their first camping trip every year. Some destinations include those on our list of Great Family Vacation Destinations in the US. For many, any family trip includes four legged members. The following guide covers all of the essentials you need for camping with a dog.

Camping bedding is essentials for dogs
The first thing on your doggy shopping list should be a good quality, waterproof and washable dog bed to keep your canine comfy during your trip. It's also a good idea to invest in a waterproof bolster cover for extra protection.  
Comfort zone
If you're expecting extra cold or wet conditions on your vacation, a blanket will add extra warmth to your dog bed and can also double up as a towel following a swim or rainfall. 
Chow down
When embracing the great outdoors, you'll want to leave your dog's ceramic bowls at home. The Yeti Boomer 4 Dog Bowl is made from double wall, non-insulated stainless steel, making it durable enough to withstand the elements and rough terrain. The bowl is even available in five different colors.  
Bag it up
Every doggy parent knows the importance of having a ready supply of poop bags, and for your camping trip our recommendation is the Earth Rated Dog Poop Bags. They are extra strong and guaranteed to be leak-proof – and the pleasant lavender scent doesn't hurt!
Healthy hound
Even when you're out and about, it's important to keep your furry friend fit and healthy, and Greenwell Pet makes this super easy. Each curated box contains nutritious food, treats, supplements, toys and grooming products. Essentially, these goodies make this a convenient way to pack for your pup. 
A sturdy lease when camping with a dog
Safety is of paramount importance during your trip, particularly if your campsite includes waterways and other treacherous terrain. A good quality dog leash is an absolute must for ensuring that your dog stays safe during your vacation.
Toy story
You'll no doubt be packing some toys for the kids (and the adults) in preparation for your camping vacation to keep you occupied – and the same goes for your pet. Barkbox offers subscription boxes of fantastic dog toys as well as treats to keep your pooch happy. 
Wipe out
Your furry friend will no doubt be making the most of his or her vacation. Usually, that means means exploring new territory. While this is great fun for your dog, it can also be extremely messy. Be sure to pack some large, strong grooming wipes to ensure that your pet – and your belongings – stay clean and fragrant during your break. 
Wrap up in dog camping gear
Hiking and exploring is all part of the adventure when it comes to camping. This will probably be your dog's favorite part of the trip. Unless you're vacationing in hot weather, your dog camping gear should include a warm dog coat to keep your pet comfortable during those long walks.   
Take a mat
While your dog may be comfortable sitting or lying on the ground, it's a good idea to pack a travel mat as these can help to protect against insect bites as well as the elements. 
Camping with a dog is great fun and can add a dimension of security to your trip. That is particularly true when camping in an isolated area. This guide will help you to make sure that you have all the camping essentials for your dog. It's also a good idea to pack a favorite toy or other familiar item. That's because it will help your pet get comfortable with the new environment on arrival. Happy camping!
If you enjoyed this article check out 5 Best Known Dog Facts for Dog Lovers and 5 Best Known Dog Facts for Dog Lovers.