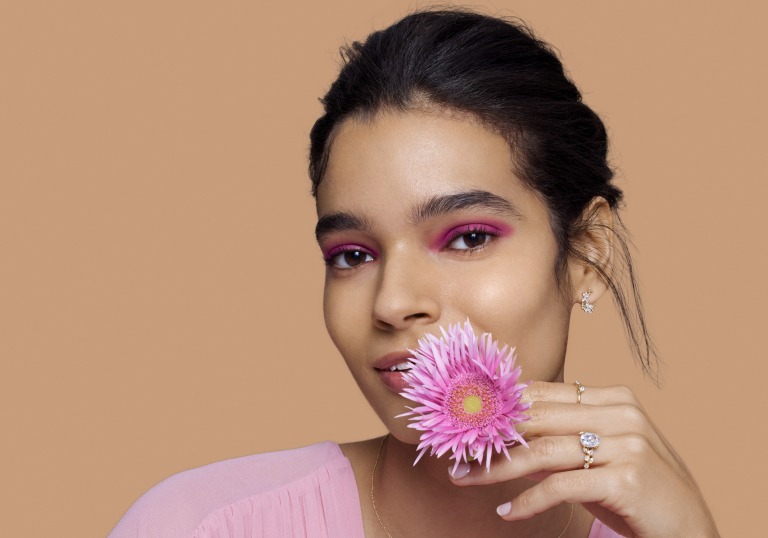 We hope you love the products we recommend! Just so you know, Men with Kids may collect a share of sales or other compensation from the links on this page.
There's no better time to propose to the love of your life than during spring and summer. While you may not be a camera person, there's a very big chance that your soon-to-be-fiancée will want every moment documented. And the warmer the weather, the prettier it will be to propose with these gorgeous nature-inspired engagement rings!
6 Gorgeous Nature-Inspired Engagement Rings
There are many beautiful retailers out there with pretty rings and jewelry. But our favorite is definitely Brilliant Earth. They're a jewelry retailer that prides itself in sustainable and conflict-free gemstones that are also top of the line!
In this article, we're highlighting their Wildflower Collection, which features gorgeous items perfect for a spring or summer engagement session!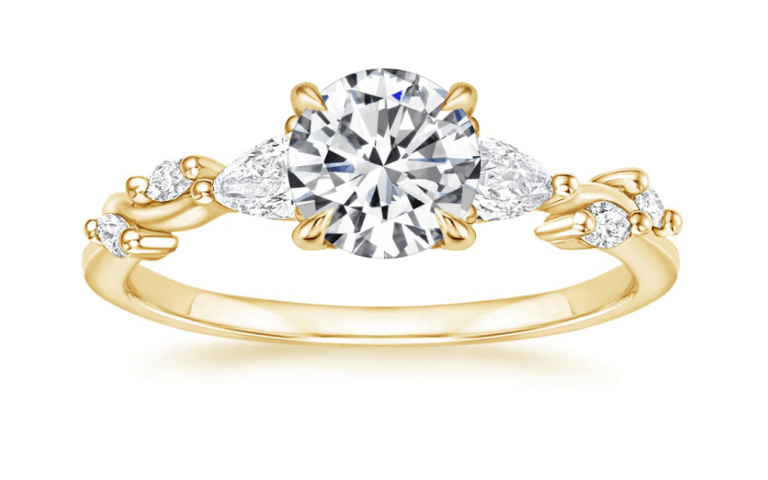 Bring on the sun with this agave three-stone diamond ring. If any ring looked like a sunflower, this would be it, especially if you get to purchase this ring in the yellow gold version! We also love how the pear diamonds on either side of the center cut look like petals. Here are the dimensions of this gemstone engagement ring:
18K Yellow Gold
14K Rose Gold
18K White Gold
Platinum (+$400)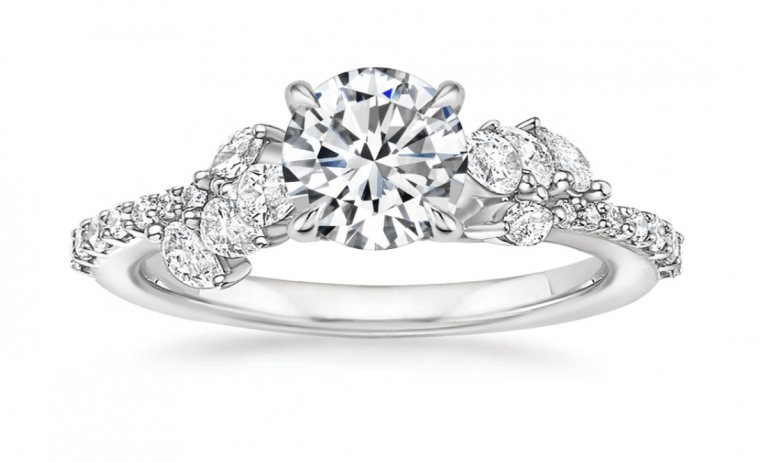 When it comes to nature-inspired engagement rings, this ivy diamond ring takes the cake. The way the smaller marquis diamonds accentuate the center cut in an ivy leaf rings style will bring to mind scenes of nature and wildflowers. This ring is a stunner with its details and will make anyone say 'yes!' Find it in:
18K White Gold
14K Rose Gold
18K White Gold
Platinum (+$300)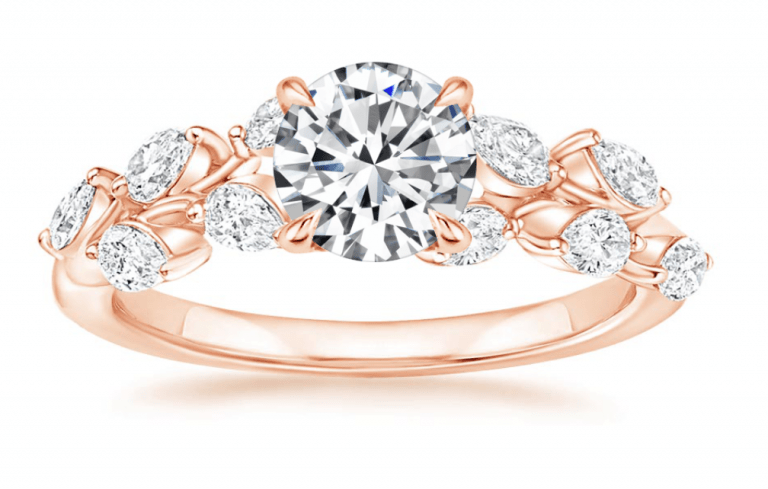 Propose with this unique, one-of-a-kind engagement ring! Its pear-shaped diamonds evoke an almost floral look that will delight anyone who finds joy in spring flowers. Show your everlasting love with this ring, whose Latin name just so happens to mean "flower that never fades."
If you don't love the shape of the center cut diamond, you're also free to customize that! Find it in:
18K White Gold
14K Rose Gold
18K White Gold
Platinum (+$300)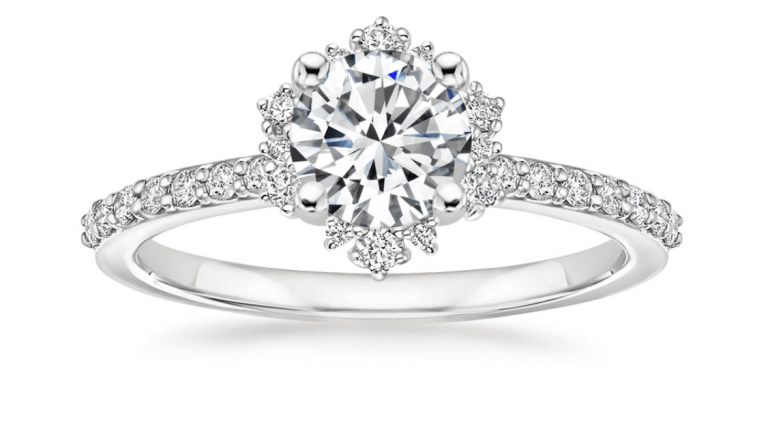 Here is another floral-inspired engagement ring from which to choose in the Brilliant Earth Wildflower Collection. This ring is a burst of sunlight, with a beautiful halo of diamonds that make it look like a flower in bloom! Also, there's no need to worry about a band fitting around this haloed ring, and you can check out the wedding collection that goes with it on their website! Find it in:
18K White Gold
14K Rose Gold
18K White Gold
Platinum (+$400)
If your significant other is obsessed with gardening or loves a good garden party, this ring is perfect for you (and for them). With the milgrain detailing on the band paired with the trellis-style diamonds framing the center cut, this ring has 'garden-chic' written all over it! We know that your loved one will fall in love with this floral engagement ring the moment you pop the question. Find it in:
18K White Gold
14K Rose Gold
18K White Gold
Platinum (+$300)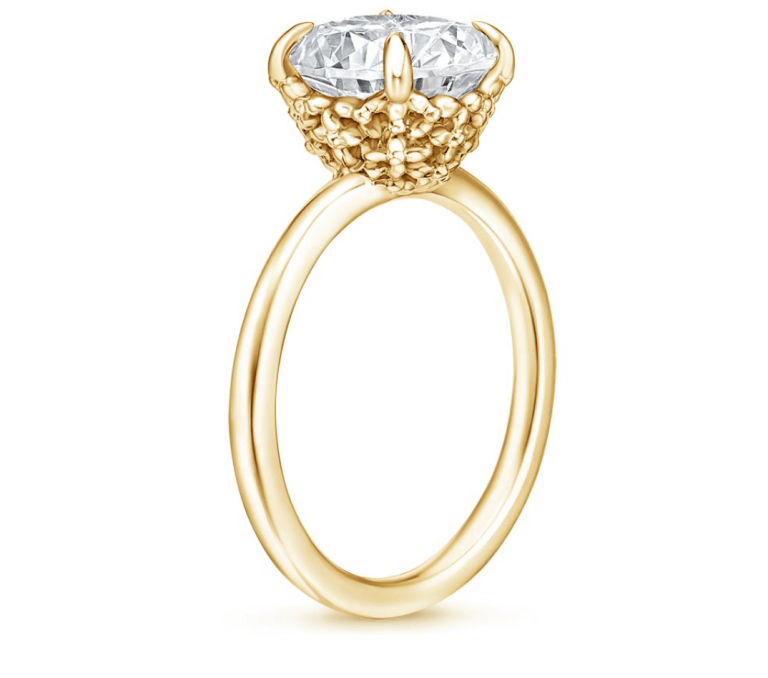 Sometimes the tiny details make the greatest impact, and this floral lattice engagement ring is no exception! At first glance, this ring has all the makings of simple beauty, with a solitaire center cut and elegant band. But when tilted, the hidden lattice detail underneath brings the intricate design to the forefront! This ring is perfect for anyone that is similarly more than meets the eye. Find it in:
18K White Gold
14K Rose Gold
18K White Gold
Platinum (+$360)
More Jewelry Collections
You may be wondering why we like Brilliant Earth so much, but the truth is, there's very little not to love! When searching for nature-inspired engagement rings, Brilliant Earth offers the most as well as the best quality overall. With their large inventory of sustainable and conflict-free products, you're hard-pressed to find anything more promising than Brilliant Earth!
Looking for the best proposal destinations? Check out these U.S. vacation spots that will make the best proposal sites! And here are some summer fashion ideas to help you pick out the right outfit when you get down on your knee for all the world to see.