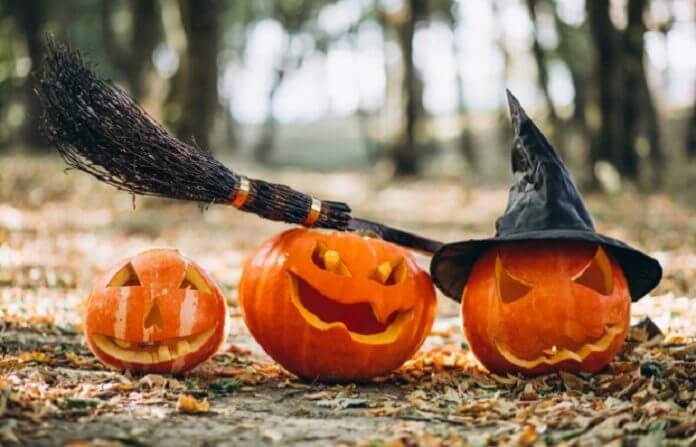 I think we can all agree that everyone loves a spooky carved pumpkin for Halloween.  This year, forget the same ol' Jack o' Lantern you've been putting on your front porch and unleash your creative side. Change up your holiday decor and decorations with our awesome pumpkin carving ideas and helpful stencils. Trust me, they're so much cooler than the standard grinning gourd you see every Halloween. Keep on reading for creepily awesome pumpkin carving and decorating ideas to try out with the kids!
DOWNLOAD PRINTABLE'S HERE -> Halloween Printable Pumpkin Carving Ideas
1. Spooky Smile Pumpkin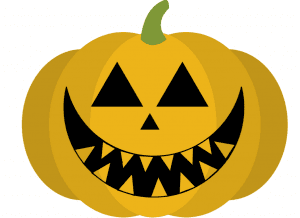 With this pumpkin carving design, be sure to carve out all of the black sections of the stencil. Starts out by tracing the black sections onto your pumpkin and carving out the eyes and the nose. Then, carve out the whole of the mouth. An easier way of making the teeth for our spooky smile is by using the fleshy inside of the carved-out mouth.
Using a knife, cut 6 smaller teeth and 7 larger teeth out of the flesh of the discarded pumpkin mouth. Then using toothpicks and stab them into the middle of the teeth, making sure not to go all the way through, just midway, as we still want half of the toothpick sticking out. Now, it's easy to place your teeth inside of your spooky smiley pumpkin, just shove the remaining toothpicks into the top of the mouth. Now, your spooky smiling pumpkin should look like the stencil above!
2. Haunted House Pumpkin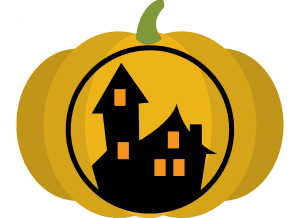 This is the only pumpkin carving design where you must AVOID the black sections and carve out the orange sections (background and windows). If you like, get creative and add other little features to this design to make it creepier. Tombstones, bats, the scarier the better!
3. Boo! Pumpkin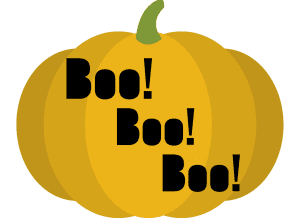 Now this one is a little tricky as this pumpkin carving design involves lettering. First, trace the letters onto your pumpkin, so you have a clear design to cut out. Slowly, start cutting away at your letters, making sure to not cut outside of the lines. Once your done, scrape out the insides of your pumpkin from the top like usual and place your candle/light inside! Boo!
4. Cute Smile Pumpkin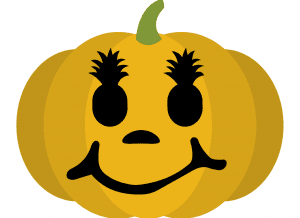 This cute little bushy-browed character will definitely be a crowd favorite! As usual, trace the black areas of this little guy's face onto your pumpkin and start carving away!
5. Skull Pumpkin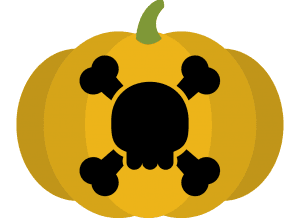 Who doesn't love a creepy yet cute skull pumpkin? Trace out the skull and bones onto your pumpkin and start carving away, making sure to avoid the outer area of your pumpkin. You should be left with a creepy skull pumpkin to spook the trick or treaters!
6. Pacman Pumpkin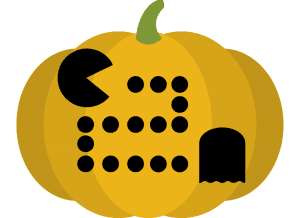 Doesn't this pumpkin just take you back to the 80's?! We love this awesome Pacman pumpkin design and we think kids of this day and age will love it too! Trace out the black areas of your design and carve away.
7. Jagged Smile Pumpkin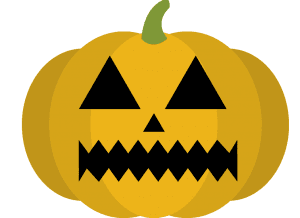 This frightening face will manage to frighten any one who sets foot on your front porch! But hey, isn't that what Halloween is all about?! Trace out this guy's creepy features, with emphasis on the jagged smile, carve it out, flesh out the insides and light him!
8. Lightning Pumpkin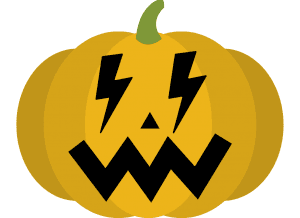 This unique pumpkin face design has lightning eyes and is an awesome Halloween decoration for your front porch this year. If you're looking for a unique jack o' lantern, this design is right up your alley! Follow the directions of the above design and you're good to go!
What Tools Should I Use To Carve Pumpkins Like A Pro?
Having multiple tools by your side when carving out your pumpkins will not only make your life a whole lot easier, but will also give your creepy jack o' lanterns a better finish! This pumpkin carving kit from Amazon has all the right tools and is very inexpensive! It features 8 sculpting tools, 2 tooth saws, 1 scooper, 1 etching tool, 1 drill and extra bonus paper stencils. Get your hands on a pumpkin carving kit like this one for your Halloween decor this year!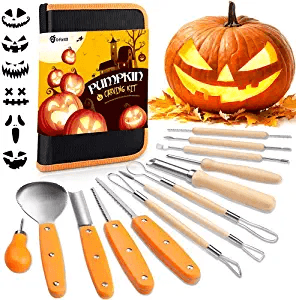 How Do I Preserve These Works Of Art?
The best way to preserve these pumpkins we've created for the Halloween holiday is a bleach soak. Sounds scary I know, but bear with me.
To do this, mix together 1 tsp (5 mL) of bleach and 1 gallon (4 L) of water.
Let the pumpkin soak in this solution for at least 1 hour. The water will hydrate the pumpkin flesh and prevent it from drying out whilst the bleach will kill most of the surface bacteria and fight mold growth.
Once soaked (no longer than 8 hours), wipe the pumpkin dry.
Remove most of the moisture puddled inside the pumpkin, making sure to dry the outside of the pumpkin as well. Leaving too much moisture puddled inside can actually cause the pumpkin to rot, which of course we're trying to avoid.
Next, you'll want to spray your pumpkin with additional bleach.
Combine 1 tbsp (15 mL) of bleach with 1 quart (1 L) of water in a spray bottle.
Douse the exposed flesh with this stronger bleach solution.
Once this has dried, put petroleum jelly on the parts of exposed flesh of your pumpkin.
Keep your pumpkin cool and moist, out of the sunlight and you're good to go!
We hope you enjoyed reading our article on these awesome pumpkin carving ideas for this Halloween! Let us know which pumpkin designs you went with!
Also if you're looking for other great ways to decorate your house, check out these decorations! Or better yet, if you're trying to decorate yourself, perhaps with a costume, check out these awesome costumes! Lastly, if you don't find the costume you're looking for in our suggestions list, then check out all other costumes here.