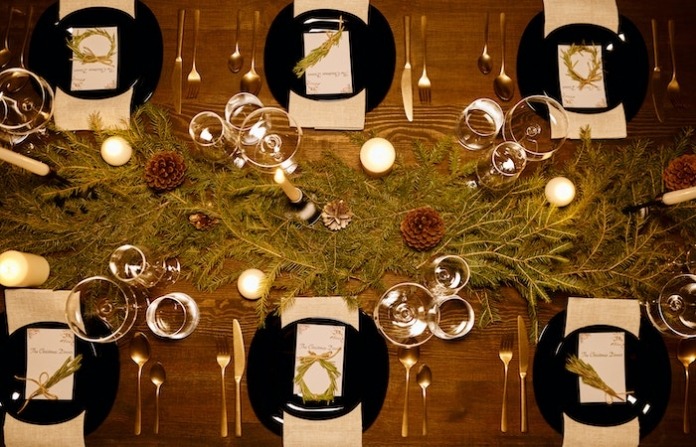 We hope you love the products we recommend! Just so you know, Men with Kids may collect a share of sales or other compensation from the links on this page.
Making a holiday meal has never been easier, thanks to the different Christmas dinner packages from Omaha Steaks. Why spend days planning the perfect meal when you can get the main meal, dessert, and sides delivered to your door? With high-quality meats and mouthwatering flavors, there's no excuse not to try one of these Christmas meal packages for dinner.
6 of the Best Christmas Dinner Packages
1. Holiday Surf & Turf Meal
Can't decide between land and sea? Well, the Holiday Surf & Turf Meal is guaranteed to please everyone at your table. This package includes Butcher's Cut Filet Mignons as well as Split Lobster Tails. And it also comes with two hearty side dishes – Stuffed Baked Potatoes and individual Garlic Butter Baguettes. If you're still feeling hungry, then you can try the oven or microwave-ready Caramel Apple Tartlets.
2. Prime Rib Feast
A juicy prime rib dinner is one of the most iconic Christmas meal packages you can have during the holidays. And this tender, boneless Heart of Prime Rib Roast is the best of the best. Aged for 28 days and butcher-cut and trimmed by hand, this prime rib is guaranteed to make your mouth water. While it's delicious on its own, it's better with one of the included sides. You'll get Green Beans in Butter, Stuffed Baked Potatoes, and Individual Garlic Butter Baguettes. And for dessert, how about a slice of New York Cheesecake?
3. Ultimate Ham Dinner
Is there anything more delicious than a thick cut of country-style ham? We don't think so either! In this package, you'll get a 5lb Boneless Duroc Ham which has been slow-cooked and smoked with real hickory. It comes with Cauliflower Gratin, Hashbrowns, and Green Beans in Butter Sauce. And rich and creamy pumpkin pie for dessert is the perfect way to end your decadent meal. 
4. Merry Steakmas Bundle
Ideal for meat lovers, the Merry Steakmas Bundles includes some of the best dishes Omaha steaks has to offer. You'll get Butcher's Cut Top Sirloins, Triple-Trimmed Tenderloin Tips, and Boneless Pork Chops. The package also comes with comforting favorites like Chicken Fried Steaks, and Flame-Broiled Meatballs. With so many delicious options on the table, you won't even need a side dish or dessert!
5. The Ultimate Gift
If you have a lot of mouths to feed this Christmas, then the Ultimate Gift Package is for you. It includes a variety of different main dishes and sides to please even the pickiest of eaters. Steak eaters can choose the Butcher's Cut Filet Mignons. There are also Marinated Salmon Filets and Boneless Chicken Breasts in this package as well. And for good measure, they've also tossed in Beef Meatballs and a side of Garlic Butter Baguettes!
6. Classic Gourmet Gift + Wine
A good steak dinner wouldn't be complete without being accompanied by a full-bodied bottle of red! And while this Classic Gourmet + Wine Package makes the perfect gift for someone, it's also perfectly acceptable to purchase one for yourself! For this meal, you'll get Bacon-Wrapped Filet Mignons, and Boneless Pork Chops. Serve it with Individual Scalloped Potatoes and end the meal with a Caramel Apple Tartlet. Of course, everything in this package pairs perfectly with the Wines of Substance Cabernet Sauvignon. With notes of currant, blackberry, and vanilla, it's guaranteed to enhance the flavors of your holiday meal!
Delight Their Tastebuds this Christmas!
Despite what you may think, whipping up a meal for your friends and family doesn't have to be an all-day event. Thanks to Omaha Steaks, you can indulge in home-cooked style dishes with one of their Christmas dinner packages instead! Whether you're feeding steak eaters or seafood lovers, these meals are easy to make as they are delicious. You can also check out Ohama Steaks to find last-minute food gifts for everyone on your list!
Aside from a gourmet dinner, there are many other ways you can enjoy the holiday festivities at home! Why not decorate the tree with these awesome decorations or entertain your guests with these fun activities?