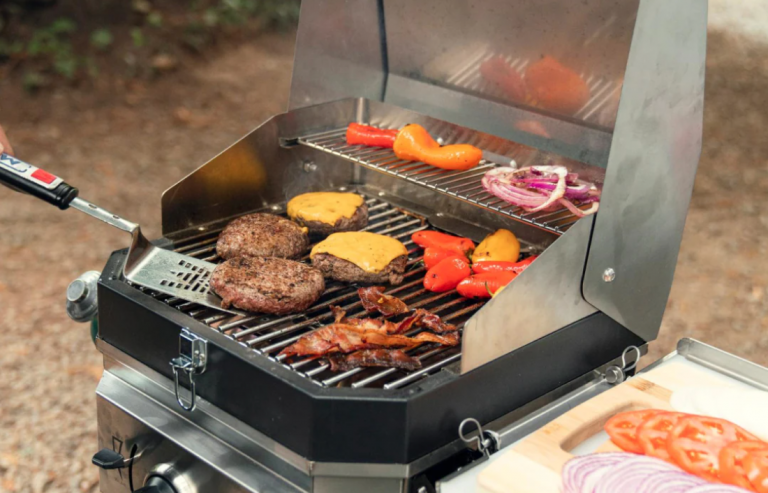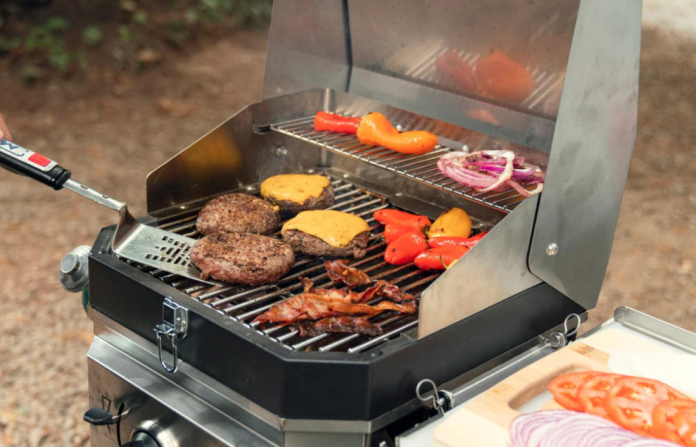 We hope you love the products we recommend! Just so you know, Men with Kids may collect a share of sales or other compensation from the links on this page.
Magma Crossover Grills are a must-have for any outdoor kitchen. This all-in-one product comes with interchangeable tops, allowing you to cook any meal with little effort. Use the griddle top for pancakes, the plancha top for seared scallops, or the pizza oven for crispy pies! With the Magma crossover, you'll become everyone's favorite outdoor chef.
Who is Magma?
For over 45 years, Magma Products has been creating grills, cooktops, and burners for outdoor use. They originally started out making charcoal grills for boats. However, their line expanded to include all types of cooking equipment for marine and outdoor use.
What are Magma Crossover Grills?
The crossover series is a portable cooking system ideal for campers or outdoor enthusiasts. It comes with interchangeable tops that you can use to cook a variety of different meals. Depending on what you want to cook, you can use the grill in one of four ways.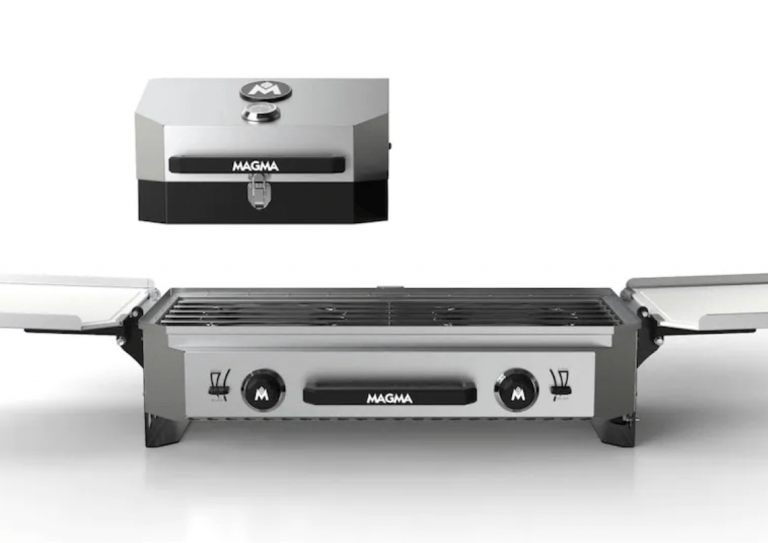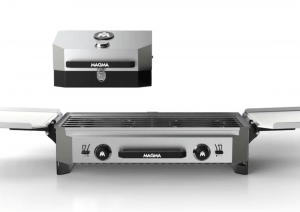 Grill steaks, hamburgers, and hot dogs using the traditional grill top. It can heat up to 700 degrees Fahrenheit, allowing you to get that perfect char. The lid has an integrated thermometer (just like your grill at home), so you'll never have to guess at the cooking temperature.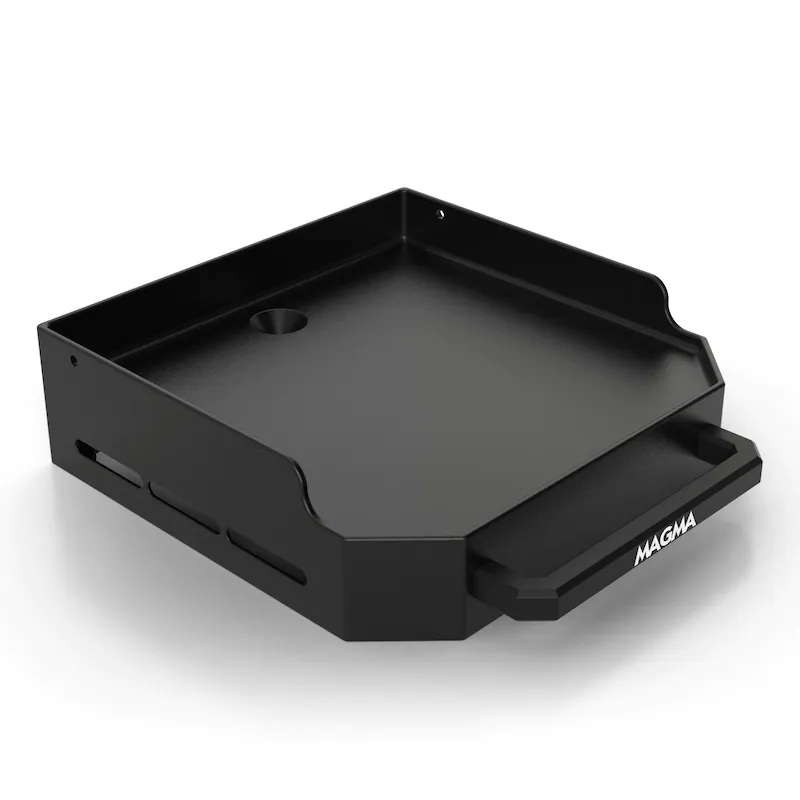 Looking to make the perfect camping breakfast? Then add the griddle top attachment. Using the innovative diffuser plate, you can evenly cook anything you normally would on a kitchen-style griddle. Ideal for pancakes or bacon, the griddle top can also be used for steak, stir fry, or burgers.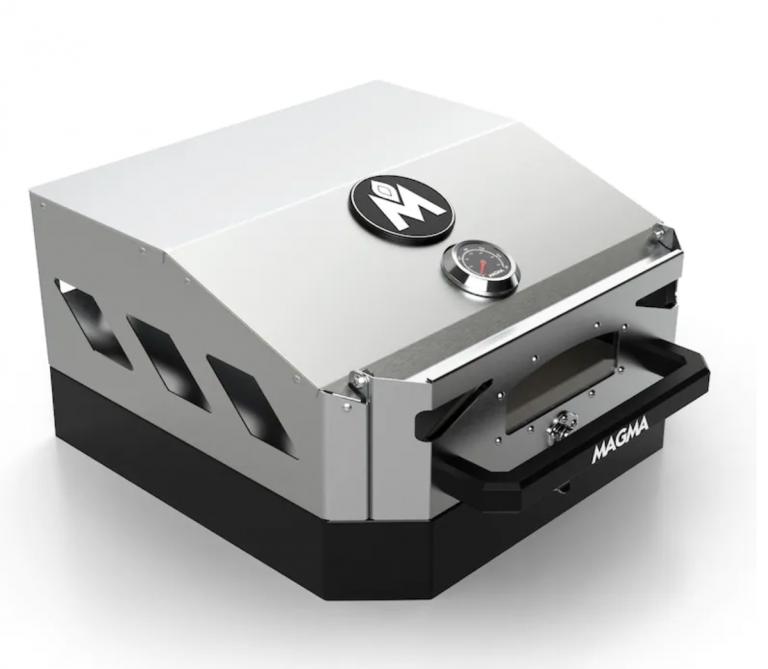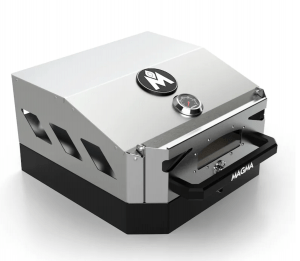 One of the coolest attachments for magma crossover grills is the pizza oven top. Just place your 12-inch pie on the pizza stone, and you'll have restaurant-quality pizza in just a few minutes. The curved liner circulates the heat while creating that crispy crust you love.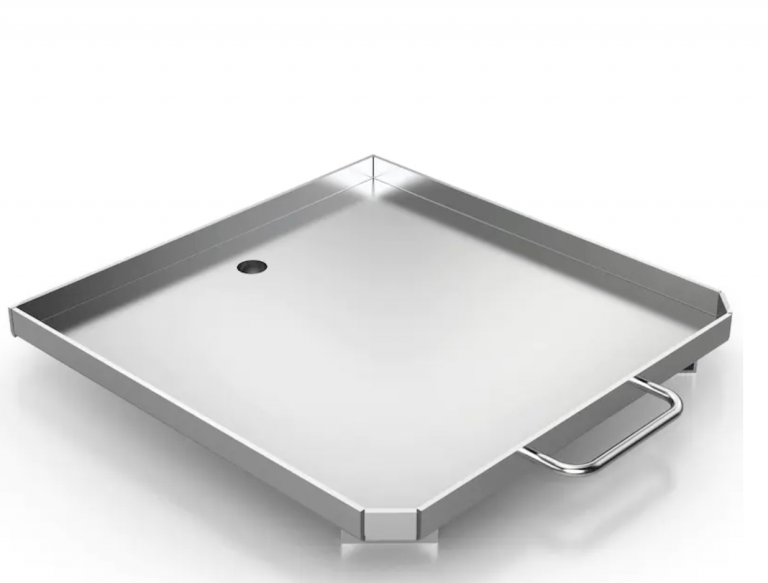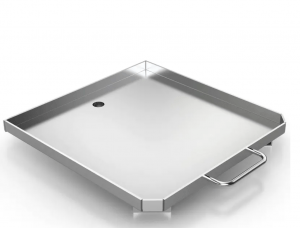 The plancha top attachment is great for searing. Unlike the griddle top, the plancha grill can get blazing hot, creating a fast, caramelized coating on all your favorite foods. It's perfect for shrimp or salmon, although any other stir fry or hibachi-style dish will also work well.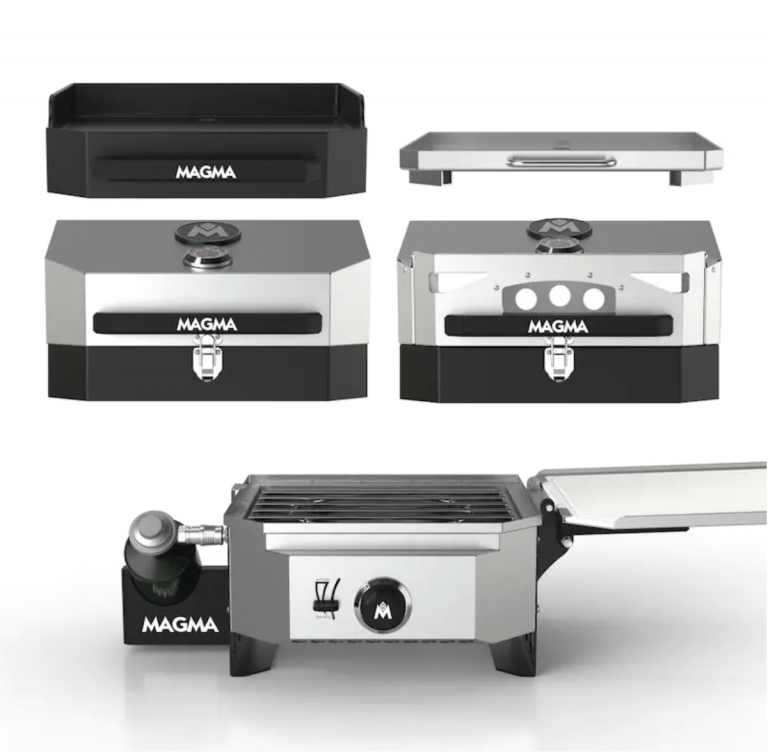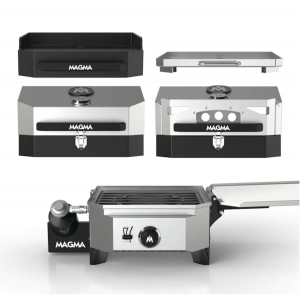 Before you can use any of the attachments, you'll need the basic burner firebox. It can hook up to a propane tank or to your RV gas lines to supply 15,000 BTUs of heat.
You can purchase the firebox as a single or double burner. The single firebox weighs 26 pounds and is 18.63″ x 18.67″ x 9.16″. The double firebox is obviously heavier, clocking in at 49 pounds. It's also 32.4" x 18.63" x 9.16" in size.
Buying the Crossover Grills
The Crossover system is only available BBQGuys website for now. You can buy the individual attachments depending on what you want to cook. The firebox base is required, although you can opt for a single or double burner. Then, you can add the grill top, pizza top, griddle top, or plancha top as an accessory.
With the double burner, you can add up to two attachments. This allows you to cook different styles of meals at the same time! This is especially useful if you're traveling with picky eaters. Some can have burgers while others can have their very own personal pizza!
If you want the whole package, the Magma Crossover can also be sold as a set. This bundle comes with the grill as well as all three accessory cooktops.
When it comes to outdoor grilling, nobody knows more than BBQGuys. They're one of the largest BBQ retailers in the country. In addition to the Magma collection, they also sell smokers, outdoor kitchens, patio furniture, and garden accessories.
More BBQ Ideas
Ideal for campers, tailgaters, or RV road trippers, Magma Crossover Grills will transform the way you cook meals. It's one of those must-have accessories if you're eager to whip up gourmet meals outdoors. If you need some food inspiration, check out some of our favorite recipes that can be made on the BBQ. Before you know it, you'll be a BBQ grilling pro!